2 Sept 2023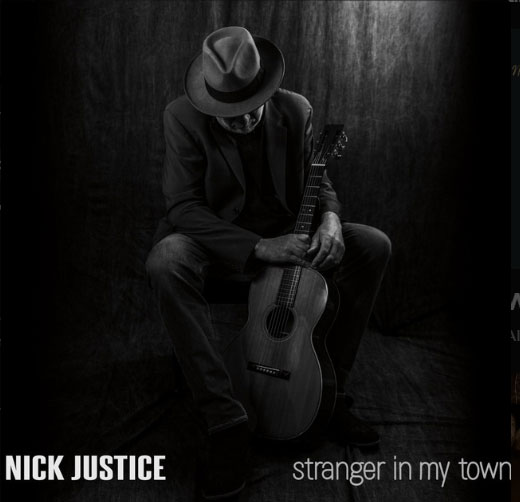 Nick Justice returns with his sixth full-length solo album, following his 2022 duet album, The Sidemen, which did quite well on several Americana charts and yielded almost 100 live gigs for the duo, who since decided to return to solo projects ten months ago. In his past few solo projects Justice has worked with multi-instrumentalist Richard Bredice and guitarist Richard Stekol. While the latter remains in tow, having played on all of Justice's solo albums, Justice reached out to veterans Joel Rafael who played and produced, as well as consummate string man Greg Leisz on this effort, Stranger in My Town. Mai Leisz plays bass While Lisa Sanders and Karen "Brown Sugar" Hayes sing backup on "Save Somebody." Note the absence of percussion which makes for a stripped-down sound and one that differs a bit from past efforts due to a new studio, producer, and engineer.
The title track opens, a true story about Justice's return to his hometown on Long Island after a ten year absence, only to find himself feeling out of place, to the extent that a high school friend didn't even recognize him. Leiz colors the jaunty tune with his dobro and his pedal steel welcomes in "Let the Wind Blow," about moving on rather than getting too wrapped up in reflection – "The silence below the noise/Creates a stillness in you/I keep hearing these things they couldn't' be true." His true emotional sentiments emerge on "The Night My Heart Caught Fire," about a chance meeting at McDonald's no less, where, as a single parent he met his future wife, also a single parent at the time. Again, Leisz's dobro and pedal steel are the add the gorgeous accompaniment.
These autobiographical songs and nuggets of hard-earned wisdom imbue "Don't You Know," "Don't Walk Away," and "Living in Hard Times," Justice blows his harmonica on the early Dylan-like "Don't You Know" and sounds determined, if not totally convincing on "Don't You Walk Away" – "Saw your eyes staring to stray/Stay with me one more day/Don't you walk away."
Joel Rafael's "Thanks for the Smiles" has long been a Justice favorite and he takes the opportunity to record it here, letting the producer play the acoustic guitar and harmonica, one of only two tracks where Justice does not as the final standout track, "America Walking By," was penned by Stekol, who plays acoustic on the tune which is about parents mourning the death of a son, presumably a casualty to military combat.
Justice turns his attention to the homeless in "Dream # 9" and tries his hand at gospel in "Save Somebody." Although the title conjures Dylan's song of a similar name, this one doesn't sound it all similar. Infused by Leisz's dobro, it's more in the vein of white southern gospel, inspired by viewing Ken Burns' documentary on country music. The background vocalists add that gospel touch to what is basically a simple riff.
One has to admire both Justice's perseverance and modesty. He says this, "I'm not a great guitar player, I'm not a great singer, but I am able to observe the human condition and communicate that in song. Fame is fleeting and screws with your mind. It was never my bag. If you love what you do, you do it on any scale or stage. I've played in front of 10.000 people, and I've more often played to empty houses. The performance never differs." Spoken like the true troubadour that he is, it's only a matter of time, given his persistence, that Justice becomes a more familiar name.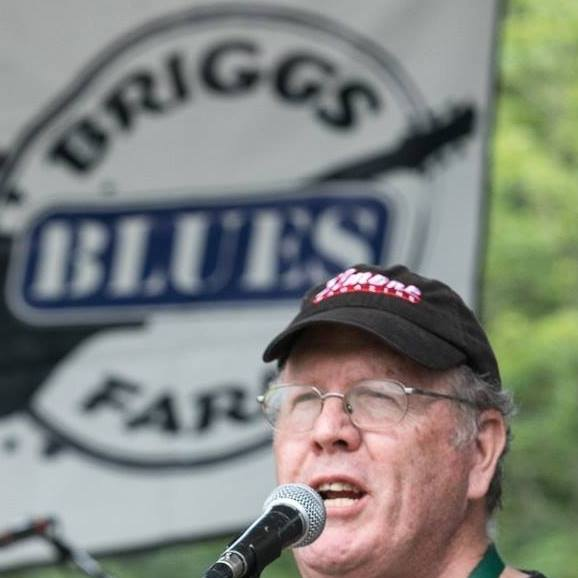 Jim Hynes is an independent contributor on music for several magazines, including Elmore and Country Standard Time. He has also written for Variety. He was a listener-supported public station(s) radio host for 25 years in CT, MI, NJ and PA. He is also a Live music host/Emcee at several national and regional venues.