5 May 2023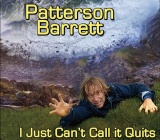 Patterson Barrett is someone you've heard without realizing you've heard him. He played multiple instruments on Jerry Jeff Walker's debut album, for example, including for the hit "L.A. Freeway." He was also in Al Kooper's band and has accompanied many artists in and around the Austin music scene. With I Just Can't Call It Quits, though, Barrett steps out on his own for a 10-song set. It's a sweet and heartfelt set of songs.
As a singer, Barrett comes off as an old soul, even though he's not as old as he sounds. He just has one of those singing voices that sounds as though he's lived a whole lot of life. Back at the beginning of his career, Barrett started a group called Partners In Crime, which included Buddy and Julie Miller as members. Buddy Miller returns the favor by dueting with Barrett on a sad country song called "I'm Pretending," which includes tasty guitar and fiddle coloring it.
One of the album's standout tracks is a cover of "Soul Man." Originally a classic soul song by Sam & Dave, Barrett gives it a sparse, guitar-y version that sounds a little like a Dire Straits workout. It incorporates plenty of electric guitar and a kind of boogie rhythm spiced up with harmonica fills.
Another notable inclusion is titled "Dream Geography." With it, Barrett imagines a world without borders. A world where children play freely together not caring about the nationality of each other. On it, like with most of the album, Barrett played most all the instruments. He also wrote most of these songs. As a multi-instrumentalist, this DIY approach makes a lot of sense. If you want something done correctly, as they say, you should do it yourself. One exception is the fine harmonica work Doc Simons provides for "Soul Man." With its Cajun squeezebox accompaniment, Barrett also sings a kind of love song to Southern Louisiana.
Called "Another Beautiful Day," it bounces along nicely. The track also includes some sharp acoustic piano and a fiddle part. "Somewhere in South Austin" is an acoustic guitar driven folkish song, which is filled with lyrical memories of Austin, Texas. Barrett sings about life in South Austin, but you get the feeling he's singing about this lifestyle from a distance but not while they're living that kind of life. For instance, he sings about how people stay up all night, just to see the sun, but he – we're led to believe --no longer pulls all-nighters.
Barrett closes the album with another acoustic-based song, titled "Just a Moment." It finds a guy hoping for a few minutes just to get a grip on things. Perhaps one great moment will put a broken relationship back together. Life moves so fast, with scenes changing before we can even fully experience them, and this is a song about hoping to slow down the rush – just for a moment. The best moments in life "last a lifetime," Barrett reminds us. He's hoping for one of these magic moments, but not quite sure he'll have one.
Songs are also like these special moments. They're slices of life, sometimes far more beautiful than real life. Let's hope Patterson Barrett is right when he says, "I Just Can't Call it Quits," because he has so many more moments of pure goodness left to offer the world.

Dan MacIntosh - Dan MacIntosh has been a professional music journalist for 30 years and his work has regularly appeared in many local and national publications, including Inland Empire Weekly, CCM, CMJ, Paste, Mean Street, Chord, HM, Christian Retailing, Amplifier, Inspirational Giftware, Stereo Subversion, Indie-Music, Soul–Audio, Roughstock.com, Country Standard Time and Spin.com.